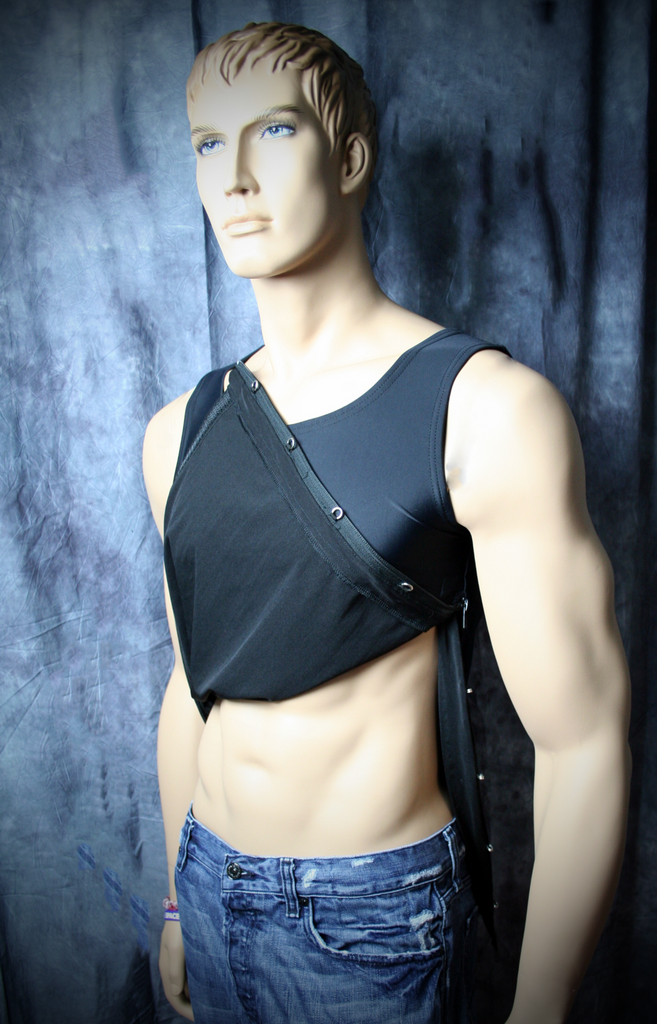 ManZip Max Black
$67.95
The ManZipTM Max Black
***Please pay attention to our NEW Sizing Guidelines for the

ManZipTM Max Chest Binder. These NEW Sizing Guidelines should help you to choose the correct size for the best fit***

This is the ManZipTM Max, the BEST thing to happen in the history of FTM Binders.  It's the same FTM Binder as the ManZipTM, but the ManZipTM Max has a MAX-PanelTM inner front compression layer for the strongest compression and flattening available on the FTM Binder Market.
Have you ever had a hard time getting into your FTM Binder? Does it get stuck over your head? Do you lose grip of your FTM binder, and can't pull it down? Do you get frustrated when trying to take it off and need someone to help pull you out of the "FTM binder tube"? The ManZipTM Max  solves this problem, and is designed with an awesome left sided zipper that opens from the bottom. It has four clasps that help you bring the zipper together without getting stuck. This way you can get into and out of the ManZipTM Max a whole lot faster. It also has moisture wicking fabric to keep you cool and dry. It also has an elastic gripping waistband that prevents rolling and sliding up of the bottom of the shirt. Some of its other features are strong flat-lock stitching for extreme stretching. Don't forget, it also flattens your chest while keeping you comfortable and still allows you to be able to carry out your daily routine.
From the moment you open the package, to when you first gaze upon your ManSculpture® FTM Binder, you are going to notice something very euphoric, it's called "Quality". We follow strict quality control during the manufacturing of our undershirts, with randomized product testing and measurements during production. All of our designs from packaging to fabric patterns are created in-house by our team, and we take great pride in our products.
ManSculpture® Flattening Undershirts start with high quality Lycra (Spandex), Polyester, and Nylon materials and are manufactured with great care for long lasting durability. 
Our light outer Polyester/Spandex 80/20 fabric is smooth and sleek. Comfortable under clothes, but looks great when worn as a tank.
But, our inner Nylon/Spandex 70/30 fabric is the workhorse of our ManSculpture® Flattening Undershirt. The ManZipTM Max has a MAX-PanelTM Front Inner Layer which gives maximum compression for smooth flattening of the chest, and has a soft feel for comfort.
With your ManZipTM ManSculpture® Flattening Undershirt you can live your life looking great and feeling fabulous, and now, a whole lot easier.
Be ManSculpture®
The ManZipTM Max Black
Sizing Instructions
1. Using a tape measure, measure your chest in inches around the entire chest over your breast tissue. This is your chest circumference for sizing. Use this number to choose the correct size of your garment. All of our products have specific sizing guidelines, so use this only for the ManZipTM Max.
2.  If you are big chested or a lot wider in the midsection (a large stomach or belly), you may want to choose one size larger
3. For example, if you measured 37 inches, then you would be a size Medium (M). You could choose a size up to a Large (L) since you are borderline Medium or Large, as this is a very strong compression garment and sizing up is always recommended.
| | |
| --- | --- |
| U.S. Size | Scale |
| XS | 27-31 |
| S | 32-34 |
| M | 35-39 |
| L | 40-43 |
| XL | 44-47 |
| XXL | 48-52 |
We have carefully designed your ManSculpture® Flattening Undershirt to fit true to US Mens size standards. As long as you have followed the above recommendations on how to measure your chest for the right size garment, you should get a good fit. Remember, our sizes are not based on other garment manufacturers styles or designs, so do not rely on your previous size with another company, and please choose the correct size by following our sizing guidelines. Now, that being said, everybody is built differently. Not every single person will fit the same and some people may be "between" sizes. If you are big chested or a lot wider in the midsection (a large stomach or belly), you may want to choose one size larger. Again, this should be rare as our garments are designed to fit a range of various body types.